Hieronder de nieuwsbrief van onze water partner, Pump Aid. Deze zomer hebben ze jouw hulp hard nodig!
This summer we need you
Today, diarrhoea is the biggest killer of African children under 5, responsible for the deaths of more children globally than HIV/AIDS, measles and malaria combined. It is estimated that 88% of these deaths are due to unsafe drinking water. Pump Aid is on the ground changing this.
This summer, we want you to do something for us. We want you to spread the word about Pump Aid and the importance of our work. Show us your support and: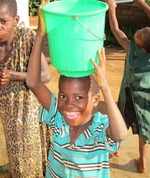 'Like' us here on Facebook
Follow @PumpAid on Twitter and tweet us
Forward this email to three or more friends (see link at the bottom)
Watch and share our videos on YouTube
Participate in the Pump Aid "Summer T-shirt challenge" on Facebook. Click here to find out more about how you and your friends can take part in the challenge and win one of the wonderful prizes made available by our sponsors Spabreaks.com and Thirsty Planet!
By helping us to spread the word, we hope to increase our supporter network; which will increase people's awareness of our work on projects, such as 
this Schools Project
.
Want to do more to help Pump Aid? Fundraise! Host a sponsored summer BBQ, company summer party, a cupcake bake off, or any other event you can think of. Click here for inspiration on some of the fantastic events that our supporters have done and are doing in support of Pump Aid. We are very grateful to all those who are helping us to bring clean water and safe sanitation to Africa!
Need further information? Require assistance? Want to share/promote your fundraising event? Email fundraising@pumpaid.org or call us. We look forward to hearing from you. Thanks and good luck!
Steun de missie van Pump Aid door onze drinkflessen te kopen.
Nieuwsbrief Pump Aid: this summer we need you!

,